International Poetry Workshop at Poets' House, 1993
Sponsored by Poets House directors—Janice Fitzpatrick and James Simmons—I attended the international poetry workshop at Poets' House in the summer of 1993.The directors and all participating poets were glad at the effort that inspired me to travel all those expensive miles. I was young, naïve and spoke imperfect English.
James Simmons wrote in a recommendation letter, thus:
"…but he is committed to the English Language and everything he writes shows true imagination wrestling with experience and language to produce something unexpected and interesting. Difficulty with English combined with a good mind have often produced dynamic results in the English written by Irish and Indian and African writers."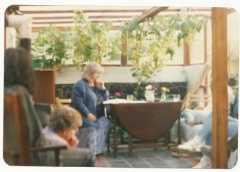 For three weeks I wrote and studied poetry under distinguished Irish and American poets. I was particularly inspired by Professor Sherod Santos who, by then, ran the PhD programme in Creative Writing at the University of Missourri, Columbia. Others who stirred the spirit of poetry in me were Derek Mahon, Greg Delanty, Medbh McGuckian and the two Poets' House Directors---Janice Fitzpatrick and James Simmons.
Other than the above facilitators, my creative spirit was also enlivened by other participating poets. These poets came from Japan, USA and Ireland. I studied their poems and learnt how they wrote and, since 1993 to date, their poems have never ceased to inspire me. The following are the poets and their poems, published in a summer 1993 Poets' House anthology and which I have held in high regard and safely kept to-date!