XX Internacional De Poesia De Medellin, 2010
I attended and participated at the XX International Poetry Festival in Medellin, Colombia, from 8th to 17th of July 2010.
The poets who participated with me were as follows: Vladimir Marku (Albania), Teresa Colom (Andorra), Althea Romeo-Mark (Antigua), Esteban Moore (Argentina), Lola Koundakjian (Armenia), Quito Nicolaas (Aruba), Udo Kawasser (Austria), Obediah Michael Smith (Bahamas), Quamruzzaman (Bangladesh), Claudio Willer (Brazil), Homero Carvalho (Bolivia), U Sam Oeur (Cambodia), Paul Dakeyó (Cameroon), Alberto Vélez, Andrea Cote, Ángela García, Argemiro Menco, Berenice Pineda, Claudia Trujillo, Consuelo Hernández, Darío Jaramillo, Eduardo Peláez, Fernando Rendón, Gabriel Arturo Castro, Gabriel Jaime Franco, Gustavo Garcés, Héctor Fagot, Jairo Guzmán, José Libardo Porras, Jotamario Arbeláez, Juan Diego Tamayo, Juan Diego Velásquez, León Gil, Marco Mejía, Pedro Arturo Estrada, Piedad Bonnett, Rafael Patiño, Raúl Henao, Sarah Beatriz Posada, Tarsicio Valencia, Tatiana Mejía, Umberto Senegal, Walther Espinal (Colombia), Vito Apshana (Nación Wayuu, Colombia), Guillermo Sáenz Patterson (Costa Rica), Domingo Alfonso, Oscar Cruz (Cuba), Verónica Zondek, Javier Campos (Chile), Mette Moestrup (Denmark), Rei Berroa (Dominican Republic), Lucila Lema (Kichua Nation, Ecuador), Amin Hadad, Arif Khudairi (Egypt), Lauri García Dueñas (El Salvador), Jean Clarence Lambert, Alice Caron Lambert, Julien Delmaire (France), Alhaji Papa Susso (Gambia), Uwe Kolbe (Germany), Carolina Escobar Sarti (Guatemala), Koumanthio Zeinab Diallo (Guinea), John Agard, Grace Nichols (Guyana), Imtiaz Dharker (India/UK), Luigi Cinque (Italy), Christopher Okemwa Oira (Kenya), Patricia Jabbeh Wesley (Liberia), Homero Aridjis (Mexico), Juan Gregorio Regino (Mazateca, Mexico), Hadaa Sendoo (Mongolia), Howard A. Fergus (Monserrat), Mohammed Bennis (Morocco), Luis Carlos Patraquim (Mozambique), James Norcliffe (New Zealand), Niyi Osundare (Nigeria), Erling Kittelsen (Norway), Nathalie Handal (Plaestine), Aiban Wagua (Kuna Nation, Panamá), Carlos Villagra Marsal (Paraguay), Gemino H. Abad (Philippines), Renato Sandoval (Peru), Yevgeny Yevtushenko (Russia), Milena Ercolani (San Marino), Cecil "Blazer" Williams (San Vicente y Granadinas), Braño Hochel (Slovaquia), Indran Amirthanayagam (Sri Lanka/ United States), Jenny Tunedal, Lasse Söderberg (Sweden), Fabiano Alborghetti (Switzerland), Hala Mohammad (Syria), Jules Deelder (The Netherlands), Jean Jacques Sewanou-Dabla (Togo), Ak Welsapar (Turkmenistan), Vasyl Makhno (Ukrania), Caroline Bird (United Kingdom), Bob Holman, Ken McCullough (United States), Gustavo Pereira, Ophir Alviarez (Venezuela).
My Performances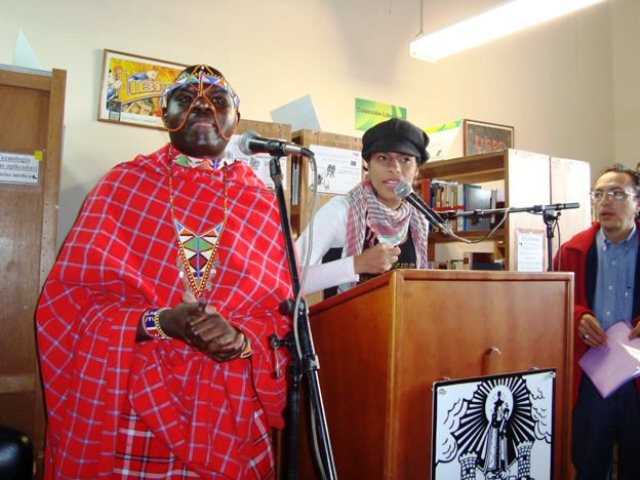 On 9th July 2010, at 11.00 am I performed my poetry at Alianza Francesa, Parque de San Antonio, together with Juan Diego velasquez of Colombia, Hala Mohammad of Siria and Vasyl Makhno of Ukrain.
On the 10th of July 2010, at 4.30 pm, I read and performed my poetry at Municipio de Ciudad Bolivar, Camara de Comercio, with friend poets--- Pedro Arturo Estrada of Colombia, Arif Khudairi of Egypt and Erling kittelsen of Norway. During the event I met one great artist called Lina Isabel Jaramillo. She interviewed me for the television before the audience.
After the event we travelled back to Medellin city. On the way it started to rain. It increased and the driving became difficult. As we drove on we were stopped by trees that had fallen across the road. With the help of Erling Kittelsen, the strong poet among us, we tried to remove them, but to no avail. We had to return and spent a night in a small market centre somewhere in Colombia. We left for Medellin the following day. What an experience to remember!
On Sunday 11th July 2010 I performed at Museo El Castillo, Loma Los Balsos at 6.00pm. I was together with Ken McCullough of Estados Unidos, Jotamario Arbelaez of Colombia and Jean Clarence Lambert of France and John Agard of Guyana.
(Click on the poem titles to read the poems)